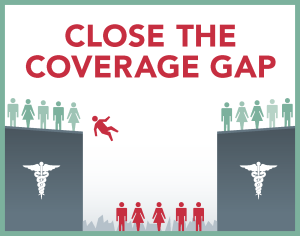 Nebraska is currently facing serious issues with its corrections system, primarily, the level of overcrowding and the resulting cost of corrections operations. Nebraska's corrections facilities are currently at more than 160 percent of capacity.
One way to address overcrowding is to make sure those who leave corrections facilities do not return due to reoffending. Studies show that ensuring that previous offenders have access to health care, particularly mental health and substance abuse treatment, is one of the biggest factors in reducing the number of people that return to corrections facilities.
A new report released in a partnership between Appleseed and the Center For Rural Affairs shows passing LB 472 – the Medicaid Redesign Act – would allow Nebraska to bring our federal tax dollars back home to help pay for mental health treatment for eligible individuals, helping should the costs of corrections reform and solve one of the state's most high-profile challenges.
Read the report: "LB 472 and Leveraging Federal Dollars to Reform Corrections"
It's estimated that at least 90 percent of people who spend time in jail or prison are uninsured. Additionally, the corrections-involved population has much higher rates of chronic illness. Without health insurance, many of these people cannot continue treatments they started in corrections facilities, which can lead to negative outcomes, including reoffending, upon reentry.
Passing LB 472 would support access to physical and mental health treatments that greatly reduce the likelihood of Medicaid-eligible people returning to prison. Access to these services could save significant state and county tax dollars and let those who have spent time in the corrections system be healthier, more productive members of their communities.
Calculations in the report estimate passing LB 472 would prevent 400 Nebraskans from returning to prison and save the state Department of Corrections $11 million in the first year. And there are additional savings that could be found around treatment programs we are currently paying for.
By passing LB 472, Nebraska can not only bring nearly $2 billion back home to fund health coverage and health care jobs, we can reduce prison overcrowding and save millions each year in corrections costs. We can also create stronger families by helping people who leave corrections facilities get needed health treatments that reduce the chances of them going back.
Take Action!
Please contact your State Senator and urge them to support LB 472 so we can close the coverage gap and boost our economy with a healthier workforce and reduce prison overcrowding in Nebraska.