Right now, more than 54,000 working Nebraskans have no way to afford health insurance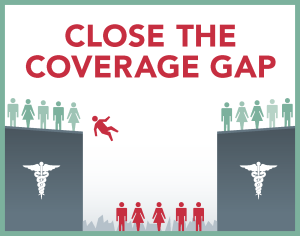 This coverage gap results in enormous human and financial costs that can no longer be ignored. The Nebraska Legislature can close this coverage gap in 2015 by passing LB 472, and you can make your voice heard!
Join us for a lobby day at the Capitol on March 5th to tell your senator to vote YES on LB472
Lobby day for LB 472 — Close the Coverage Gap in Nebraska
Thursday, March 5, 8:30am-12pm
NSEA 4th floor conference room (605 South 14th Street, Lincoln)
Register
(Registration is required to attend.)
Join Nebraska Appleseed and supporters on March 5 to speak with your State Senator about why they must support LB472.
LB 472 – the Medicaid Redesign Act – is an innovative bill that would close the coverage gap and allow more than 54,000 working, low-income Nebraskans to finally get affordable health coverage while providing a healthy boost to Nebraska's economy.
Your voice is critical to ensure all Nebraskans get they health care they need.
Agenda for March 5 Lobby Day:
8:30-9:00: Registration at NSEA
9:00-10:00: Training
10:00-10:15: Walk to Capitol
10:15-11:00: Speak to your senator!
11:00-11:15: Return to NSEA
11:15-12:00: Wrap-up
Register