Along with transforming Nebraska's health care system to make it more effective and more efficient, LB 472, the Medicaid Redesign Act, is crucial to ensuring that 54,000 Nebraskans who fall into the coverage gap have access to health care.
In order to understand the coverage gap and why the current system needs to be fixed, it's important to know some basics about the Medicaid program.
Medicaid: Who is Covered and Who is Not?
In 1965, President Lyndon B. Johnson signed Medicaid into law to provide eligible, very low-income Americans with health insurance. Since then, many low-income individuals across the country have been
able to access crucial health care services through the Medicaid program.
Although Medicaid provides quality health insurance to many, only certain groups of very low-income people are able to enroll in the program. In order to be eligible for Medicaid, a person must have an income below a certain level AND fit into one of the eligibility groups: pregnant women, children, some very low-income parents, seniors, and people with disabilities.
An adult without children cannot qualify for Medicaid, no matter how low his or her income is.
Under our current Medicaid system, thousands of low-income people are ineligible for Medicaid coverage because they do not fit into one of these eligibility groups.
These people, mostly adults without children or working families with children, fall into what is called the "coverage gap."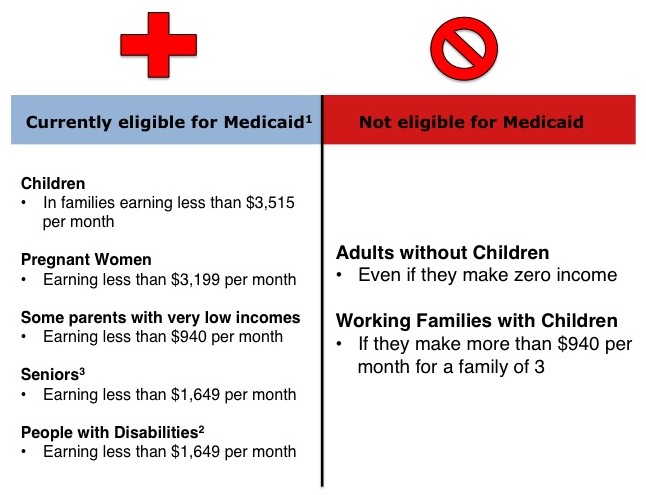 They are currently ineligible for Medicaid, but they also cannot afford to buy private insurance and make too little to be eligible for tax credits through the Health Insurance Marketplace.
In Nebraska, 54,000 Nebraskans fall into the coverage gap. Without closing the coverage gap under LB 472, these Nebraskans lack a path to health care coverage. They can only get coverage if the coverage gap is closed in Nebraska.
Take Action!
We hope you contact your State Senator and urge them to support LB 472 so all working Nebraskans can get the health coverage they need.