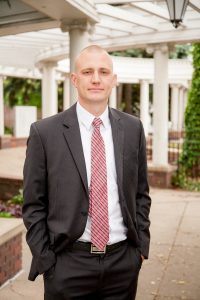 Nebraska Appleseed is proud to recognize phenomenal advocates who have made contributions to the fight for justice and opportunity for all Nebraskans at the 2017 Good Apple Awards: Root Down, Rise Up on October 19th in Omaha.
The Seeds of Justice Award recognizes individuals and organizations for outstanding work in the field of public interest law.
This year, Nebraska Appleseed has the honor of recognizing Ross Pesek, J.D. with the Seeds of Justice Award.
Ross Pesek, by any standard, is exceptional.
At 29-years-old, Pesek was recognized by the Nebraska Bar Association as the 2013 Outstanding Young Lawyer, and by the University of Nebraska Alumni Association with an Early Achiever Award. At 30, Ross founded his own law firm, Pesek Law LLC, positioning it to support Nebraskans of diverse backgrounds in the South Omaha community.
Those things alone would make Pesek, now 33, an incredible asset to his community. But Pesek has made an even deeper impact. "He could just practice law," says Becky Gould, Nebraska Appleseed's Executive Director, "but he takes that time that he could be billing hours and puts it into helping people. He doesn't do it for the credit. He does it because he's really invested."
Over seven years ago, Pesek established a free legal clinic at Our Lady of Guadalupe church in South Omaha. Every Monday night since, he has planted himself in the church office, volunteering his time as an advocate for immigrant Nebraskans and their families. Since the clinic was established, Pesek has provided free legal consultation for over 1,500 people.
In every aspect of his work, Pesek's approach is centered in empathy. He brings an understanding of systemic issues to the communities he serves, and pragmatically looks to how he can help. So when he saw that bright, ambitious student DREAMers (Deferred Action for Childhood Arrivals program recipients) were unable to qualify for college financial aid and scholarships, he created a path: the True Potential Scholarship.
Ross and his wife, Karen, founded the True Potential Scholarship in 2014, and opened application to any Nebraska or Iowa DREAMers who wished to further their education by attending a local community college. Since then, over 50 one-year scholarships have been awarded, thanks to the generosity of donors who were inspired by Nebraska DREAMers and who were encouraged to action by Karen and Ross.
Ross and Karen Pesek's passion for accessible, affordable education comes from personal experience: both attended Central Community College to complete their prerequisites before transferring to Wayne State to finish their four-year degrees, with the help of scholarships. They view the True Potential Scholarship as a way for them to pay their education forward.
Selina Martinez, Community Organizer at Nebraska Appleseed, has witnessed the profound impact the scholarship can have: "I've seen the effect. With everything that's happening, Ross has been able to take stress off these amazing advocates, amazing people. It's youth across the state: from Columbus, from Lincoln, from Omaha, all the way to Scottsbluff. His scholarship gives real opportunities to immigrant youth."
For Pesek, his dedication to students goes even deeper than just financial aid. He often serves as a mentor. Gloria Sarmiento, Community Organizer at Nebraska Appleseed, emphasizes, "He's a role model. When he's talking to the youth, he's talking about the importance of education. Saying, 'If I did it, you can do it.'"
In this instance, as in so many others, it is his personal commitment that sets Pesek apart. In his firm's work within the Omaha community, in his volunteer advocacy at Our Lady of Guadalupe, and in his efforts to increase access to education for Nebraska's amazing DREAMers, Pesek digs in and invests to do what he can, where he can. And he brings others into the fight, calling on his community to dig in alongside him to create more real change.
Gould, in thinking of Pesek, said, "He'll be the first to say, 'I'm not doing anything brave. It's these young people who are doing the brave thing.' But he's doing what he can to help right a systemic wrong. We need more people like Ross.'"
Nebraska Appleseed is honored to be recognizing the work that Ross Pesek has done for Nebraska and for the families and students he has served. We are incredibly grateful to him for the impact he has made in the Nebraska community. His efforts have helped many of our friends, neighbors, and allies overcome systemic barriers to their True Potential. We're thankful to have him as our partner in advocacy, and know he'll do whatever he can to keep planting Seeds of Justice in Nebraska.
Join us in celebrating Ross Pesek at the 2017 Good Apple Awards on October 19th. For more information about the event, contact Emma Rasmussen at erasmussen@neappleseed.org.