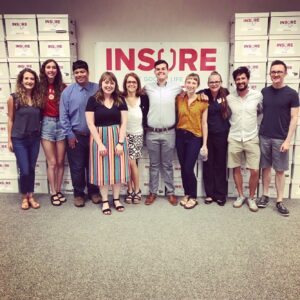 First of all, we want to say "thank you so much" for all of your hard work during the signature collection phase of the Insure the Good Life campaign to expand Medicaid in Nebraska!
With help from volunteers like you, we were able to collect signatures from all 93 counties across Nebraska. Last week, the Secretary of State certified over 105,000 signatures – well over the mark needed to get this on the ballot as Initiative 427!
Now that signature collection is over, it's time for phase two of the campaign to expand Medicaid and pass Initiative 427. Just like with signature collection, volunteers will be a valuable part of getting this issue passed and 90,000 more hard-working Nebraskans have a way to get the health care they need.
Here are some ways you can help us get it done.
You can sign up to knock doors throughout Lincoln and talk with members of our community about this important issue. You can sign-up to canvass door-to-door using this link, or sign-up for a phone bank to call Nebraska voters.
For volunteering opportunities in Omaha, sign-up with the Insure the Good Life campaign to help with door-to-door canvassing or phone banking.
Want to vote early? Use this link to submit a Nebraska Early Voting Ballot Application and return it to your County Election Commission office by October 26 (lookup your County's office here), and help rack up votes to expand Medicaid before election day rolls around.
Make sure you're registered to vote! You can check your voter registration here. You can register to vote or update your registration online at this link.
We're also looking for volunteers to write short letters to local newspapers supporting Initiative 427. Our Communications Director Jeff Sheldon can help you make it a quick and simple process.
Learn the facts about Medicaid expansion and Initiative 427 on the Insure the Good Life fact sheet.
And be sure to Like, Share, and Retweet our posts expanding health coverage access on Twitter, Facebook, and Instagram.
Thanks again for all of your help! We hope you'll continue to be a part of this campaign so we can help 90,000 of our fellow Nebraskans get the health care they need! Vote "FOR 427" in November.