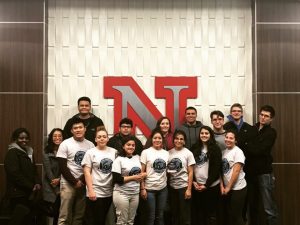 Nebraska Appleseed is proud to recognize advocates who have made outstanding contributions to the fight for justice and opportunity for all Nebraskans at the 2017 Good Apple Awards on October 19th in Omaha.
The Roots of Justice Award recognizes grassroots advocates who have made outstanding contributions to justice and opportunity for all and have helped build a stronger community.
This year, Nebraska Appleseed has the honor of recognizing Define American Chapter at the University of Nebraska-Lincoln with the Roots of Justice Award.
Define American. With their very name, Define American Chapter at the University of Nebraska-Lincoln invites all Nebraskans to join an important conversation. "We can't talk about our identity without first talking about immigration, because this country is made up of immigrants," says Valeria Rodriguez, founding member of Define American and new community organizer at Nebraska Appleseed. She continues, "[Define American is] focused on taking away these stereotypes. Immigration is not just a Latino issue. We're all immigrants."
In their year-and-a-half charter, Define American – UNL Chapter has started new and challenging dialogues within the University of Nebraska – Lincoln and Lincoln communities while mindfully creating a safe space in which undocumented students can express themselves, receive support from their peers, and thrive. Nebraska Appleseed's Selina Martinez, Community Organizer, has watched Define American develop and grow. "Define American made a distinct space for undocumented and DACA [Deferred Action for Childhood Arrivals] youth on campus, and have pushed to have really tough conversations. And that's not just with students, but with leadership at the university community as a whole."
"Tough" has defined the group since their founding in January 2016. The fledgling chapter quickly established themselves a powerful partner to organizations like Nebraska Appleseed and Justice For Our Neighbors through their advocacy at the state Capitol on issues like Professional Licenses for DACA youth. Define American has lead "Immigration 101" trainings for UNL students and administrators, the first of their kind on campus. They hosted a film series, featuring works from White People filmmaker and Define American founder, Jose Antonio Vargas. They've met with UNL faculty to find solutions for undocumented students, and founded the Hope for the Future Scholarship, which offers assistance to students who are unable to qualify for financial aid due to immigration status.
On September 5th, when the crucial DACA program was abruptly ended by the Trump Administration, Define American – UNL Chapter petitioned University of Nebraska administration to "publicly express its commitment to the protection of all its students, especially those who are recipients of [DACA]." Define American's petition, in part, helped prompt statements of support from both the University's President and Chancellor.
Define American – UNL Chapter's outstanding efforts to advocate for immigrant students has also gained the group recognition on a national level. In December 2016, the UNL Chapter was named College Chapter of the Year by the national Define American organization, just six months after the chapter's founding. And, the UNL Chapter is host to the first-ever Define American Summit, a two-day national convening of Define American college chapters. At the Summit on September 30th, Jose Antonio Vargas will return to Lincoln a second time. On his first visit to UNL in 2015, Vargas's catalyzing speech to the E.N. Thompson Forum inspired Rodriguez and others to start a Define American chapter at Lincoln – the same chapter we honor this year.
As Rodriguez passes the torch within UNL Chapter, she is proud of the students who are stepping forward to lead, "Us being leaders is what's going to make a difference in the future. Just like the scholarship's name is 'Hope for the Future,' as [Define American] we do hope for a better future, and as young leaders, that's what we strive for."
At Nebraska Appleseed, the hope and determination of Define American brings incredible inspiration to longtime advocates like Darcy Tromanhauser, Director of the Immigrants and Communities Program. "What they are doing is what makes change happen. It's so exciting to see them do it as a real team – taking leadership as individuals but collaborating together. They really get things done," she remarks. "In a situation where it can be hard to be hopeful, they are a bright spot of hope. That kind of proactive energy is exciting."
Nebraska Appleseed is incredibly proud to be recognizing Define American – UNL Chapter, with the 2017 Roots of Justice Award. Their resilience and determination has already made a pronounced difference in their community, and we can only imagine what conversations they will open the lives they will change as the young leaders of Define American continue to grow as Nebraskans and advocates. We are so grateful to have Define American – UNL Chapter as our partners and friends.
Join us in celebrating Define American – UNL Chapter at the 2017 Good Apple Awards on October 19th. For more information about the event, contact Emma Rasmussen at erasmussen@neappleseed.org.