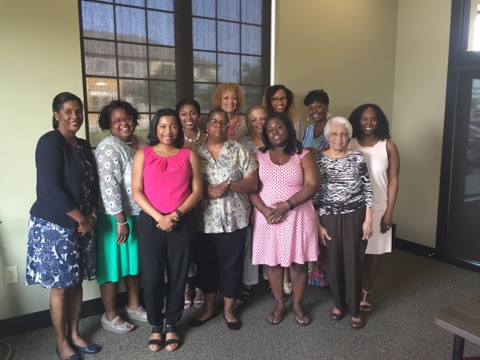 Nebraska Appleseed is proud to recognize advocates who have made outstanding contributions to the fight for justice and opportunity for all Nebraskans at the 2017 Good Apple Awards on October 19th in Omaha.
The Roots of Justice Award recognizes grassroots advocates who have made outstanding contributions to justice and opportunity for all and have helped build a stronger community.
The Roots of Justice Award honors grassroots advocates: those who work within their communities to build a better, more-just Nebraska from the ground up. The Psi Chi Omega chapter of Alpha Kappa Alpha Sorority strives to do exactly that: taking their work directly to their friends and neighbors. The Alpha Kappa Alpha mission, to be of "Service to All Mankind," is exemplified in the attitude and actions of Psi Chi Omega women.
Nebraska Appleseed Executive Director Becky Gould spoke to how Alpha Kappa Alpha's century-old tradition of activism is evident in the Psi Chi Omega chapter: "The work that they have joined with us to do comes out of that civil rights history and is grounded in collective action. So it's been a privilege for us to work with an organization that has been championing these issues for a long time."
The Psi Chi Omega Chapter works with impenetrable positivity and determination to strengthen their community on multiple fronts. Through Get Out the Vote canvassing, registrar training, and voter education events at local barbershops and hair salons, they work to increase civic engagement on a neighborhood level. The members also work to decrease food insecurity through sponsoring a community garden near Park Middle School in Lincoln, volunteering at the Emergency Food Pantry at Lincoln Public Schools, and organizing food drives for the Lincoln Food Bank.
In every aspect of their work, the enthusiasm Alpha Kappa Alpha brings is contagious. Rachel Gehringer-Wiar, Appleseed Field Director, knows from experience that a single Alpha Kappa Alpha member can re-energize an entire event. She recalls one instance; "We were struggling to find volunteers for a Get Out the Vote canvass about this time last year. I was worried we'd come up short. Then, Charlotte [Duncan-Wagner, AKA Member] showed up with 10 people, a lot of her friends and family. It was awesome to see how she moved her community to action, and because of her, we had one of the best canvas events of the season."
Alpha Kappa Alpha women like Duncan-Wagner are experts at inspiring and empowering people to take action on issues that matter to them. They think about whose voices need to be heard and lifted up, and bring their advocacy right to the community's front door.
Alpha Kappa Alpha takes their voices to their lawmakers' front door as well. At the annual AKA Lobby Day at the Nebraska Legislature, the chapter stands with community members, helping people connect with State Senators and discuss the issues that matter to their lives. In addition, the AKA members persistently contact Nebraska's U.S. Senators and Representatives, calling on lawmakers to reduce voting barriers and ensure that all Nebraskans have access to affordable, quality health care.
The Psi Chi Omega chapter carries on the hard-fought legacy of Alpha Kappa Alpha, working to impact change through their never-wavering focus. They activate and engage their communities, encouraging others to rise in the spirit of Alpha Kappa Alpha to "Be the Voice" for change. Their powerful advocacy will continue to be a force for good in their community.
The members of Alpha Kappa Alpha, Psi Chi Omega chapter are building a more equitable Nebraska from the ground up, and we're so honored to recognize these amazing women with the Roots of Justice Award. Thank you for everything you do.
Nebraska Appleseed, along with community members and supporters, will celebrate Alpha Kappa Alpha Sorority, Psi Chi Omega Chapter at the 2017 Good Apple Awards on October 19th. For more information about the event, contact Emma Rasmussen at erasmussen@neappleseed.org.