Each semester, Appleseed is fortunate to work with bright, talented, and dedicated interns and law clerks who are passionate about fighting for justice and opportunity for all Nebraskans. We're excited to have interns and clerks join our team from across the nation virtually! Meet the outstanding Nebraskans who dedicate their time to positive change in our communities.
We're also excited for our returning interns and clerks: Marissa Morales, Brittany Roos, Henry Dobson, and Claudia Brock! To read more about them, click here.
Jordan Malcom
she/her/hers
Jordan is a graduate student studying Negotiation and Conflict Resolution at Creighton University. She is interning with our Immigrants & Communities program and is excited to contribute to Appleseed's mission of fighting for justice and opportunity for all Nebraskans. In her free time, she enjoys doing meditation, cycling, and painting/drawing. A fun fact about Jordan is that she became an aunt for the first time at the age of 11!
Zeke Rouse
he/him/his
Zeke is a welcoming intern within our Immigrants & Communities program. He is a senior at Nebraska Wesleyan majoring in Sociology/Anthropology and Theatre for Societal Development & Community Engagement with a minor in Religious Diversity. Zeke's future plans aren't set in stone, but he would like to work in the non-profit sector, policy, and foreign affairs and would either like to work for the US State Department as a Foreign Service Officer or for the United Nations. An interesting fact about Zeke is that in the fourth grade he legally changed his name from Ethan to Zeke!
Mia Thomas
she/her/hers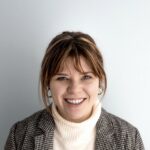 Mia is a junior from Bellevue, Nebraska studying Urban Studies and Political Science at Wheaton College. She is interning with our Economic Justice program, specifically in the area of food and nutrition access. After graduation, Mia plans to continue being an advocate for food justice by seeking a masters in food policy, as well as attending culinary school. Something Mia is most proud of is successfully fermenting a batch of sauerkraut!
Alicia Christensen
she/her/hers
Alicia is a second-year law student from Omaha, Nebraska studying at the University of Nebraska College of Law. She is a member of the Nebraska Law Review and was recently elected Editor in Chief. The way that Appleseed works to correct systemic issues through a policy-driven approach that incorporates community, legislative, and legal action is what drew her to clerk with us. In her free time, Alicia likes doing crafts such weaving, embroidery, and cross-stitch.
Libby Israel
she/her/hers
A senior studying sociology at Creighton University, Libby is our No Kid Hungry Youth Ambassador. She wanted to join Appleseed because it's an organization with the kind of values and social justice minded work that's so important right now, especially during this public health crisis. Libby is proud to be the first woman in her family to graduate college and she hopes to work at a nonprofit in the Midwest working on SNAP outreach or child hunger issues. A fun fact about Libby is that she has tried every flavor of Ben & Jerry's ice cream!
Nicole Abbott
she/her/hers
Nicole is our Child Welfare fellow and is a junior studying Criminal Justice at Bellevue University. After spending more than half of her life in the child welfare system, Nicole is passionate about bettering the system for children and families in Nebraska. Some of Nicole's accomplishments she's most proud of are winning Miss Nebraska US International, getting signed with MMG Model and talent in NYC, and being chosen as the 2021 Nebraska CASA champion. In her free time, Nicole enjoys doing pageantry, modeling, and traveling.