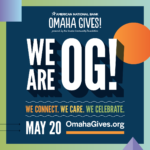 This May, you have two great opportunities to support Appleseed and ensure no one in our communities is left behind amid COVID-19.
First, we're celebrating Omaha Gives on Wednesday, May 20. When you give, a generous supporter will match the first $5,000 donated, dollar-for-dollar. Schedule your gift here now through May 20 and DOUBLE your donation!
A week later, we're participating in Give to Lincoln Day on Thursday, May 28. Generous friends of Appleseed are offering a $10,000 bonus if we can reach our goal of 225 contributions!
But there's more! Your donation will also be matched with a proportional share of a $500,000 challenge match pool. That means, if you help Appleseed raise 1% of all donations during Give to Lincoln Day, Appleseed would receive a bonus of $5,000!
Make your Give to Lincoln Day gift now through May 28!
However you give, you're strengthening the response to COVID-19 by fighting to:
Push for immediate and long-term protections for Nebraska's meatpacking workers.

Ensure the needs of Nebraskans are met amid COVID-19, including youth in the child welfare system, immigrant families, and people who are incarcerated.

Advocate for stronger federal and state relief packages so every Nebraskan affected by the crisis can get the critical financial and public assistance they need.

Halt evictions so every family has a safe place to call home.

Make Medicaid expansion a reality for 90,000 uninsured, hardworking Nebraskans who need coverage now more than ever—without delays or barriers to coverage.

Guarantee every voice in Nebraska is heard in the 2020 Census to distribute representation and resources fairly.
Your advocacy is more important than ever. Join us in supporting Appleseed during this year's giving days and see your donation go further.