About the Challenge
The Western Nebraska Better Breakfast Challenge was a great success! Nebraska Appleseed awarded prizes to the three participating schools who increased their breakfast participation most at the end of 2017. We're also proud of all our participants for their new and exciting efforts to feed more students! Read more about the winners by reading our summary blog post.
For innovative strategies and proven methods for increase YOUR breakfast participation, please see below.
Benefits of Breakfast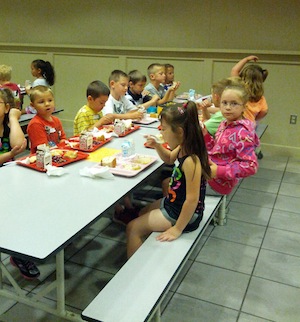 According to the Food Research and Action Center (FRAC), breakfast is essential for both the health and learning of children. Skipping breakfast results in negative consequences associated with academic, cognitive, health, and mental functioning.
The FRAC's national scorecard ranked Nebraska 47th out of 51, with only 40% of low income children participating in school breakfast. The FRAC has set a national goal for schools to have 70% participation in school breakfast.
Breakfast for Learning (FRAC)
Breakfast for Health (FRAC)
Alternative Breakfast Models (one way to increase participation)
The Food Research and Action Center and Nebraska Department of Education have put together materials to help explain and provide information on implementing alternative breakfast models into your school.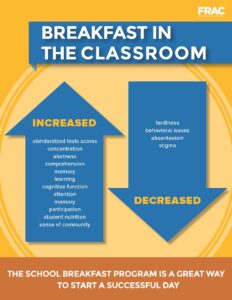 How It Works Chart (FRAC)
How To Webinar (FRAC)
Assessing Your School's Potential (NDE)
The Breakfast Basics (NDE)
Sample Menus (NDE)
Breakfast in the Classroom
By providing breakfast in the classroom at the start of the day, it ensures all students start their day with a morning meal. Breakfast options could include low-sugar cereals,  granola bars, yogurt, fresh fruit, dried fruit, applesauce, trail mix, low fat cheese sticks, whole-wheat bagels with cream cheese. All of which are relatively easy to disperse and clean up.

Video: Breakfast in the Classroom (San Diego Unified School District)
Grab and Go Breakfast
By offering breakfast in a way the students can eat it on the go offers more opportunity for students to participate in breakfast. Grab and Go can be set up in a way that lets students enjoy it in a cafeteria before class, in the hallway on the way to class, or at the beginning of class. It provides flexibility to the students, ensuring maximum participation.

Video: Grab and Go Breakfast (Omaha Public Schools)
Second Chance Breakfast
Second Chance offers breakfast to students after their first class of the day. It gives students the ability to get to class on time and makes sure all students have the ability to eat breakfast in the morning. Served similar to Grab and Go, it can be easily eaten as students transition into different classes or between lesson plans.

Video: Second Chance Breakfast (see 6:20)
School Funding Options (another way to increase participation)
Grants are available to assist with the costs of implementing alternative breakfast models into schools. Fuel to Play 60 offers up to $4,000 and Action for Healthy Kids offers up to $2,500 to schools working to improve their breakfast programs.
Breakfast Promotion Ideas (a final way to increase participation)
Include information about school breakfast in the packet of materials that go to parents at the beginning of the school year
Feature easy-to-access information about school breakfast on the school website that highlights the fact that qualifying for free or reduced-price meals includes breakfast, not just lunch
Conduct promotional activities (e.g. contests, celebrity appearances, special themes) that encourage students to participate
Inform teachers by having the School Breakfast Program as an in-services topic to make sure they know about the academic benefits to participation, barriers to participation, and ways that teachers can help encourage students to participate in breakfast.
Q&A
Q: How can my school increase breakfast participation?
A: Promote your school breakfast program through flyers, postcards, and emails. Mention it to parents during parent-teacher conferences. Encourage students to participate. Offer alternative breakfast models to accommodate to all students.
Q: Will breakfast in the classroom take away from instructional time?
A: Breakfast in the classroom usually takes less than fifteen minutes and can easily be done during morning announcements. Teachers often report higher productivity in students after a morning meal which results in less time spent on distractions in the classroom.
Q: How can I address concerns about trash and sanitation when offering breakfast in the classroom?
A: These issues can be addressed in various ways including: selecting breakfast items with little risk of spillage, assigning students to be in charge of cleanup, and having the students dispose of their breakfast in a larger bin in the hallway that can be collected promptly after breakfast.
Contact Us
Have questions? Contact Eric Savaiano, Nebraska Appleseed's Healthcare and Economic Justice Program Associate, with any questions you may have. You can reach him via email at esavaiano@neappleseed.org and via telephone at 402-438-8853 ext. 126.